"Let us go to Bethlehem and see this thing that has happened which the Lord has made known to us." [Luke 2:15]
Each one of us has a 'Bethlehem' story, the place or moment where Jesus is so real and alive for us. This is our own Christmas story, our own Bethlehem.
But what does Christmas mean to us? To know this is to find our own Bethlehem.
For some, it is writing and sending Christmas cards and messages out to their loved ones. For some, it means Christmas shopping for parties and for presents. While for others, it is enjoying time with family and friends at Christmas dinners.
But Christmas is not just about giving a space in our minds and hearts for our brothers and sisters.
It is first and foremost giving a space to someone who makes us brothers and sisters in the first place- Jesus Christ, the reason for this season.
For the shepherds in the nativity story, it is not just listening to 'the news of great joy' but going out to see for themselves this wonderful news.
For the wise men from the East, it is not just to remain pondering on the beauty of the stars, but going out to seek the newborn king of the Jews to pay him rightful homage.
For Joseph, it is not just a dream. He has to get up and work to make that dream a reality.
For Mary, it is receiving the divine message with humility, being obedient to God's will and treasuring these things in her heart.
In other words, Christmas is looking up to Christ.
Furthermore, Christmas is celebrating Christ not just as Emmanuel (God-with-us), but as God-within-us.
So Christmas is also doing something for Christ and on behalf of Christ for others.
If Christ is God-within-us, we are to be God's presence and present to one another.
As a present to one another, what kind of present are we? Are we a present that is worth treasuring in somebody's heart?
As a Christmas message to one another, what message would we bring? Is it a message of joy, peace, hope, love?
Christmas is also a time of thanksgiving to God. Let us thank God for his amazing gift for us, the gift that never loses its value and significance to us- his only Son, Jesus Christ, our Saviour.
As a way of gratitude to God, let us think of the many figures of the newborn Christ around us today. He is present in the last, the least and the lost. We need to be Christ-in-action for them.
As Mary and Joseph struggled to find an inn, there are many today who are homeless, because of the lack of affordable housing, or because of natural disasters, like floods, fire, earthquake, or those in war-torn countries. Let us support them with our prayers and in any way we can.
Like the child in the manger who is helpless, vulnerable and voiceless, there are many of our brothers and sisters who need our help, who need our personal care in their vulnerabilities and who need us to speak on their behalf, for they are not being heard or their voice is considered unimportant. Let us stay with Jesus for he knows so well the language of the helpless, the needy and the poor.
Finally, let us pray for ourselves that during this Christmas, we may find our true Bethlehem, by experiencing God's personal care and love for us, by ourselves- being the presence of Christ and present that brings peace, joy, hope and love to others, especially to those in need.
Thanks to all of you in the parish who together journeyed and helped us get through another year in our Christian journey towards our eternal Bethlehem.
With peace and blessings from the Most High, Fr Uday and Fr Adi and I, we wish you all a blessed and a solemn Christmas celebrations.
And may we look back the past year with gratitude, celebrate the new year with joy and enthusiasm and look to the future with hope and optimism. Merry Christmas one and all!
Fr Junjun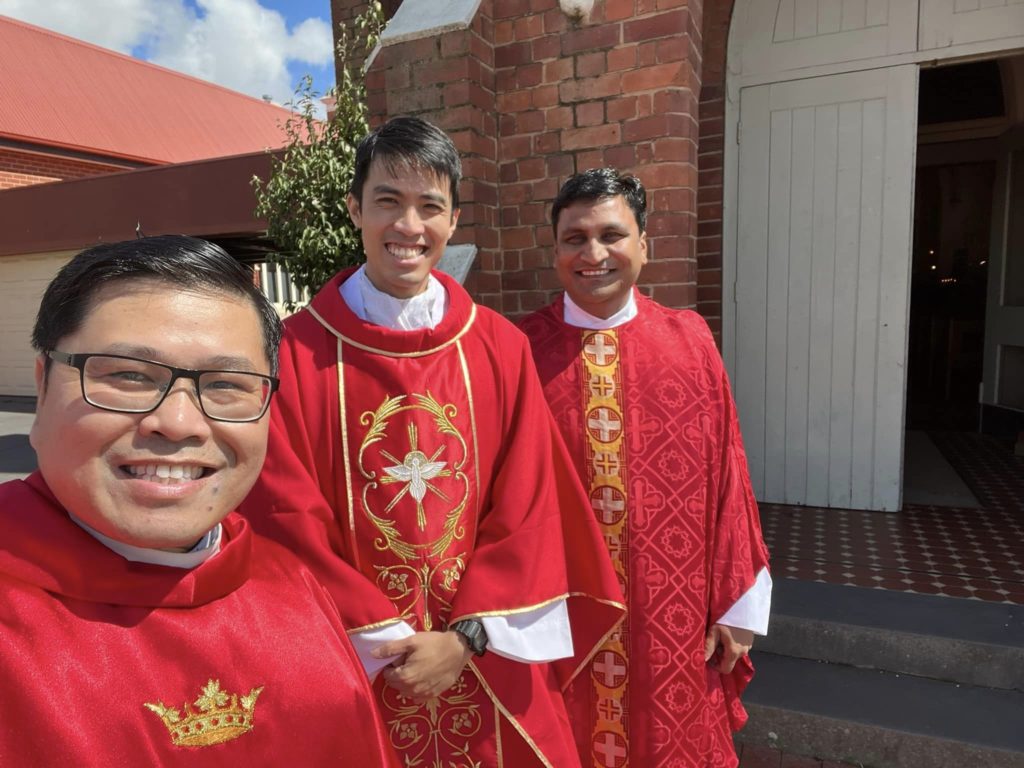 Header image: Triptych of the Adoration of the Magi (1470 - 1472). Oil on panel. Museo Nacional del Prado, Madrid, Spain.